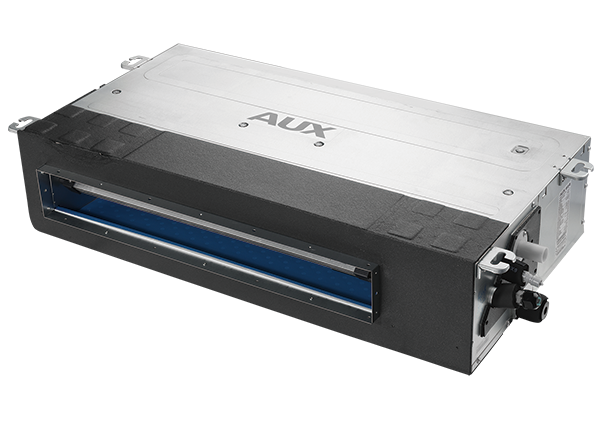 A-Match DC Inverter R32, A++
AUX U-Match DC Inverter R32 Duct Type Series is a 2020 generation unit for compact yet strong and flexible applications packed with several new advantages:
Wider and stronger Air Flow volume and Static pressure capabilities at lower noise. Variable Static Pressure, can be monitored from the Wired controller.
Unique Patented AUX Constant Airflow Vol Technology adapts fan speed to installation conditions to achieve constant air flow at duct outlet.
Equipped with a powerful water pump, able to lift water to up 700mm (models 36+).
2020 designed Statice pressure chamber, with reduced air leakage and a new 4-step drain pan, an overall Ultra slim unit with 245mm of height. Completely removable control box.
R32 DC Inverter GMCC compressors offer a stable and reliable operation even under extreme temperature conditions, such as -15~24 in Cooling and -15 ~52 in Heating.
Wireless LCD remote control, and Wired controller capability as Optional offer full installation flexibility.
Ability to connect to WiFi, basing on the special optional WiFi Module.
AUX Touchscreen Central Controller can control up to 64 sets of units, with grouping, Error codes, Fire Alarm, and running status info.
New, popup (zero screw) filter section can carry W-type dust filter which is easy-access and faster to clean.
Fresh Air intake ability.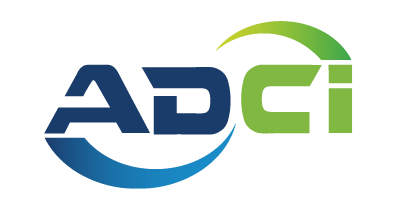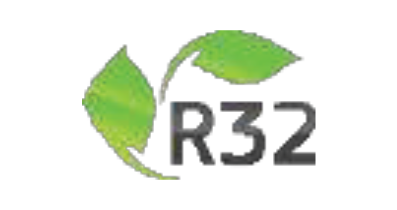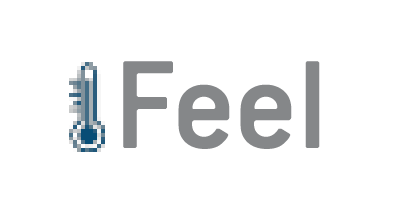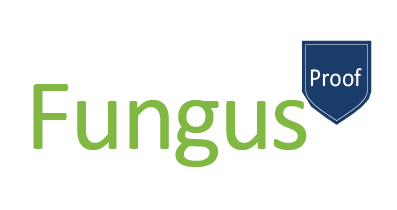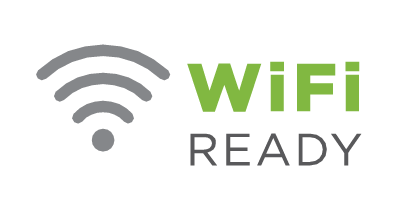 MODEL CODE
SET
ALMD-H18/NDR3HA
ALMD-H24/NDR3HA
ALMD-H36/NDR3HA
ALMD-H42/NDR3HA
ALMD-H48/SDR3HA
ALMD-H60/SDR3HA
MODEL CODE
IDU
ALMD-H18/NDR3HA
ALMD-H24/NDR3HA
ALMD-H36/NDR3HA
ALMD-H42/NDR3HA
ALMD-H48/SDR3HA
ALMD-H60/SDR3HA
MODEL CODE
ODU
AL-H18/NDR3A(U)
AL-H24/NDR3A(U)
AL-H36/NDR3A(U)
AL-H42/NDR3A(U)
AL-H48/SDR3A(U)
AL-H60/SDR3A(U)
Operation
COOLING
HEATING
COOLING
HEATING
COOLING
HEATING
COOLING
HEATING
COOLING
HEATING
COOLING
HEATING
Nominal Capacity
kW
5,00
5,60
7,00
8,00
10,55
11,15
12,10
13,50
14,00
16,00
16,00
17,00
Nominal Capacity
Btu/h
17.060
19.107
23.884
27.296
35.997
38.044
41.285
46.062
47.768
54.592
54.592
58.004
Pdesign  (C/A/W)*
kW
5,20
4,70
7,00
7,00
10,30
8,60
10,50
8,60
14,00
12,00
15,40
12,50
Capacity Range
kW
1,53 – 5,60
1,40 – 6,20
2,16 – 8,20
1,98 – 9,30
2,90 – 13,0
2,60 – 13,5
2,90 – 13,5
2,60 – 15,0
4,76 – 16,5
4,78 – 16,15
4,76 – 17,5
4,78 – 18,5
Capacity Range
Btu/h
5.220~19.107
4.777~21.154
7.370~27.978
6.756~31.732
9.895~44.356
8.871~46.062
9.895~46.062
8.871~51.180
16.241~56.298
16.309~55.104
16.241~59.710
16.309~63.122
Power Input  (nom-max)
kW
1,63-2,30
1,73-2,25
2,18-3,56
2,10-3,62
3,40-4,71
3,45-4,13
4,50-5,10
4,60-4,53
5,20-6,70
5,40-6,80
6,10-6,80
5,80-7,10
Current Input (nom-max)
A
7,16-10,10
7,60-9,88
9,57-15,63
9,22-15,90
15,0-21,50
15,5-18,00
19,50-22,30
20,00-19,70
22,60-28,60
23,40-29,10
26,50-29,10
25,20-29,50
Annual Consumption
kWh/ann
294
1.617
401
2.405
587
2.939
599
2.940
–
–
–
–
SEER – SCOP(C/A/W) – Energy Class
W/W
6,30 A++
– / 4,00A+ / –
6,60 A++
– / 4,50A+ / –
6,10 A++
– / 4,00A+ / –
6,20 A++
– / 4,00A+ / –
6,20 A++
– / 4,10A+ / –
6,20 A++
– / 4,00A+ / –
Ambient Temperature Range
oC
-15 ~ 52℃
-15 ~ 24℃
-15 ~ 52℃
-15 ~ 24℃
-15 ~ 52℃
-15 ~ 24℃
-15 ~ 52℃
-15 ~ 24℃
-15 ~ 52℃
-15 ~ 24℃
-15 ~ 52℃
-15 ~ 24℃
Power supply
V-Ph-Hz
230V ~ 1N – 50 Hz
230V ~ 1N – 50 Hz
230V ~ 1N – 50 Hz
230V ~ 1N – 50 Hz
400V ~ 3N – 50 Hz
400V ~ 3N – 50 Hz
Power Connection Cable  ODU.-IDU. / Com.
mm2
3×2,5 – 3×1,5 / 2×0,75
3×2,5 – 3×1,5 / 2×0,75
3×4,0 – 3×1,5 / 2×0,75
3×4,0 – 3×1,5 / 2×0,75
5×2,5 – 3×1,5 / 2×0,75
5×2,5 – 3×1,5 / 2×0,75
Compressor Type
GMCC Rotary
GMCC Rotary
GMCC Rotary
GMCC Rotary
GMCC Rotary
GMCC Rotary
Throttling Method
Electronic Expansion Valve
Electronic Expansion Valve
Electronic Expansion Valve
Electronic Expansion Valve
Electronic Expansion Valve
Electronic Expansion Valve
Air Flow Volume
m3/h
1.150 / 960 / 840
1.400 / 1.190 / 980
1.900 / 1.600 / 1.400
1.900 / 1.600 / 1.400
2.300 / 2.000 / 1.700
2.300 / 2.000 / 1.700
Available static pressure
Pa
25 (0~160)
25 (0~160)
37 (0~160)
37 (0~160)
50 (0~160)
50 (0~160)
Sound Pressure Level IDU (H/M/L) – ODU.
dB(A)
43 / 41 / 40 – 53
44 / 41 / 39 – 58
44 / 41 / 39 – 58
44 / 41 / 39 – 58
52 / 49 / 47 – 60
52 / 49 / 47 – 60
Sound Power IDU (H/M/L) – ODU
dB(A)
53 (H) – 64
55 (H) – 67
55 (H) – 66
55 (H) – 66
64 (H) – 70
64 (H) – 70
Diameter Liquid-Gas Connection Pipe
inch
1/4″ – 1/2″
3/8″ – 5/8″
3/8″ – 5/8″
3/8″ – 5/8″
3/8″ – 3/4″
3/8″ – 3/4″
Refrigerant charge (precharge/after 5m)
R32 – 1,16kg  /  30g/m
R32 – 1,40kg  /  30g/m
R32 – 2,54kg  /  30g/m
R32 – 2,54kg  /  30g/m
R32 – 3,60kg  /  30g/m
R32 – 3,60kg  /  30g/m
Max Distance /Height Connection Pipe
m
30 / 20
50 / 25
65 / 30
65 / 30
65 / 30
65 / 30
Indoor Unit Dimension LxHxD /Weight
mm/kg
1.000 x 700 x 245 / 31
1.000 x 700 x 245 / 32
1.400 x 700 x 245 / 42
1.400 x 700 x 245 / 42
1.400 x 700 x 245 / 42
1.400 x 700 x 245 / 42
Supply air dimension HxL
mm
874 x 204 – 811 x 175
874 x 204 – 811 x 175
1.275 x 208 – 1.213 x 178
1.275 x 208 – 1.213 x 178
1.275 x 208 – 1.213 x 178
1.275 x 208 – 1.213 x 178
Outdoor Unit Dimension LxHxD /Weight
mm/kg
830 x 545 x 315 / 37
900 x 700 x 350 / 51
970 x 805 x 395 / 72
970 x 805 x 395 / 72
940 x 1350 x 370 / 92
940 x 1350 x 370 / 92
*  Colder, Average, Warmer climate zones for heating operation